Silhouette in the Sky

The picture below shows you the main groups of diurnal, (day flying), birds of prey, as you may see them in the sky. If you recognise a silhouette click on the corresponding link at the bottom of the page.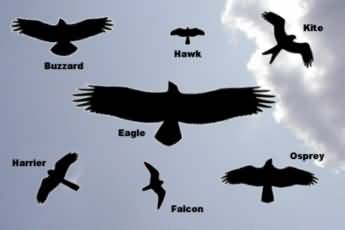 [ Home ] [ Buzzard ] [ Eagle ] [ Falcon ] [ Harrier ] [ Hawk ] [ Kite ] [ Osprey ] [ Owl ]
Raptors mentioned on this site are given a 'Falconry Mark' (up to 5 stars) for their suitability as a falconry bird. This takes into account such things as temperament, ease of training/keeping, hunting ability etc and is only a guide to prospective falconers. As with all raptors read as much as you can on the subject, buy a video, join a good club, go on a course, talk to experienced falconers, buy your falconry furniture/food in advance, make sure your aviary is built correctly for the bird you wish to keep, find a reputable breeder and THEN buy your bird.